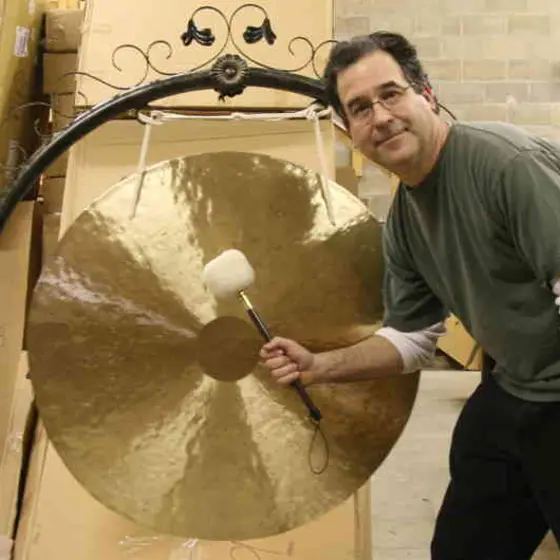 Gongs Unlimited operates out of a 2,300 sq. ft. warehouse.
5 employees and many sub-contractors
Gongs Unlimited does about 20% of their sales internationally.
About
Gongs Unlimited

…

Andrew Borakove, owner of Gongs Unlimited, began the journey of launching his own business in 2004. At the time, he was working in Hollywood as a comedy writer, and decided to try his hand in online retail. While sitting at the beach, he came up with the idea of selling gongs. Shortly thereafter, he began selling gongs online to customers around the world. Since it would be difficult for a brick and mortar store to support such a niche product, the online marketplace has been essential to Andrew's success. Andrew enjoys steady growth in his business, allowing him to not only hire local members of his community, but also a lot of local tradesmen to make gong stands and other items. That growth however creates constant work with very little time off. However Andrew also finds the time to be very involved within his community. He is a member of ABLE (The Association of Business Leaders and Entrepreneurs) in Lincoln. He also donates gongs to various groups around Nebraska and the nation, including The University of Nebraska.
I love owning Gongs Unlimited because it gives me the opportunity to help people all around the world. I get to have fun playing gongs and creating fun item descriptions. I employ people that thrive working in an environment like my business. Most importantly I've learned that you can be doing $1 million in sales, have your business on the front page of the Wall St Journal, and on NPR, but still only barely be getting by.